Grit sandpaper is typically used to remove paint from wood. It comes in different grades of coarseness, with the roughest being #80 and a finer grit available at #600. Each grade has its own uses for removing or fading colors depending on whether you want to lighten or darken them.
Sandpaper is the best tool to use when removing paint from wood. The grit of the sandpaper should be matched to the stain that needs to be removed.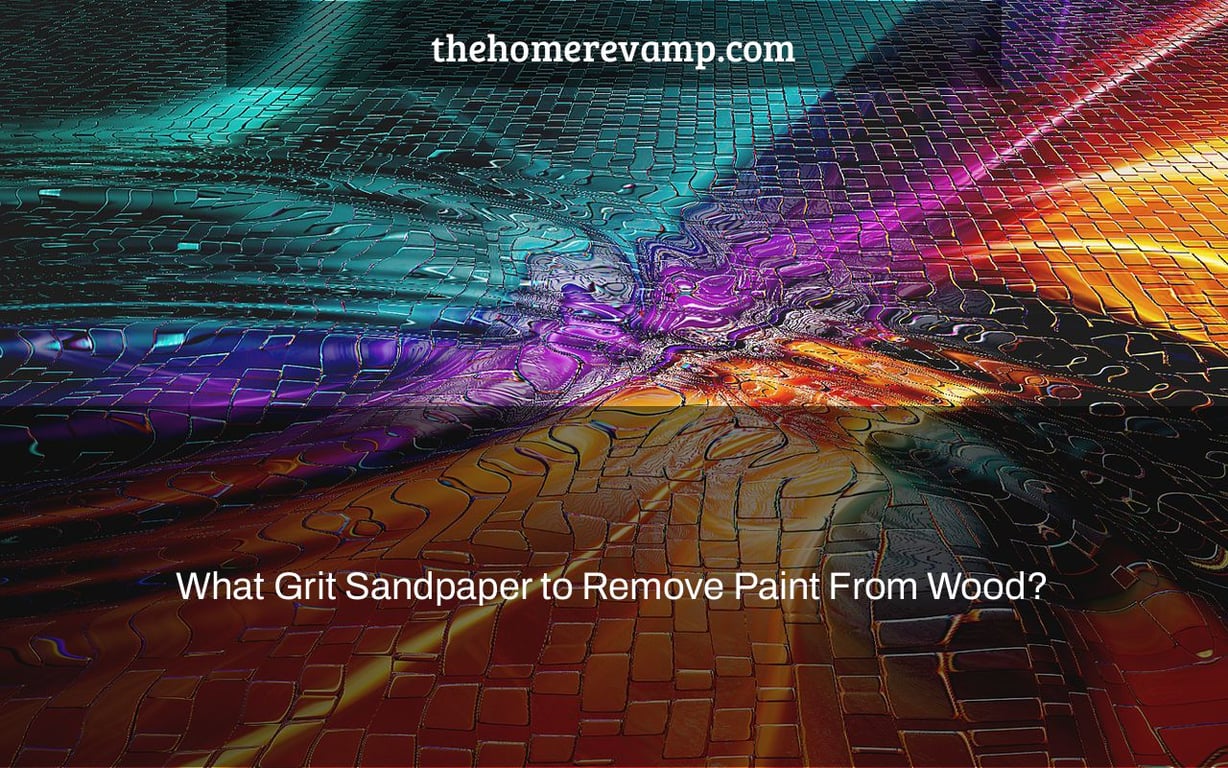 Repainting wood often necessitates the removal of previous coats in order for the fresh paint to adhere properly. One of the most common techniques for doing this is sanding. However, choosing the appropriate grit sandpaper is critical for removing the paint properly and quickly.
To remove paint off wood, use sandpaper with a grit of 40 to 60. However, finer sandpaper, such as 80 to 120 grit, is required to remove paint off edges and details. To prevent sanding more than required, start with a lower grit sandpaper and work your way up.
The remainder of this post will go over everything you need to know about removing paint off wood, including the difference between paint-stripping and sanding paint, the best equipment for sanding paint off wood, and non-sanding alternatives.
When it comes to sanding and stripping, what's the difference?
In certain locations, both procedures are utilized interchangeably since they both remove paint. Paint-stripping, on the other hand, is not the same as sanding.
Sanding is the process of rubbing sandpaper over a surface to smooth out any irregularities or remove a layer of dried coating. Stripping, on the other hand, refers to the use of a chemical stripper to breakdown the paint and generate a sludge that is then rinsed and dried off the wood.
Best Sanding Tools for Removing Paint from Wood
You may use a sander instead of sandpaper to remove the paint from the interior or exterior you're working on. These sanders are available in a variety of sizes. The tools you may use to sand the wood using your sandpaper are listed below.
Sander Orbit
An orbit sander has a motorized device that rotates a sanding disk. As a result, an orbit sander may sand in minutes what would otherwise take days to sand by hand. It's vital to remember that if the grit of the sanding disc is too high for a surface, electric sanders may harm the wood. As a consequence, it's critical to start with a lower grit paper and then go to a higher grit for quicker results.
sander for fine details
These sanders have a different action than disc sanders, however they are also powered by electricity. They're smaller and take longer, but they allow you greater control over how much of the surface you sand and how deep you want to stop. A back-and-forth motion is used by a detail sander instead of rotating sanding disks.
Block of Sanding
To provide sanding paper a physical hold, a sanding block is employed. If you're stripping paint off wood for the first time, this is the best method to do it. This is because you don't want to harm the wood with tools. You have greater control and can vary the pressure to remove the paint while maintaining the wood when you sand by hand.
What Is the Best Paint Removal Sander?
As previously said, the easiest approach to remove paint without harming the wood below is to sand it using a sanding block. For bigger regions, however, this is not practicable. As a result, if you're sanding a surface bigger than a small cabinet or a chair, one of the following sanders is recommended:
Black+DECKER Sander with a Random Orbit
This sander sands a five-inch surface in minutes, cutting sanding time down from days to hours. It's supported by a reputable company and has over 4000 Amazon ratings, with more than 70% of them being five stars. It has a good grip and mobility, which are important qualities to consider while sanding for the first time.
Orbital sander Dewalt 20V MAX
A high-capacity sander that can do up to 12,000 orbits per minute. You may modify the speed of disk spinning on Dewalt's Orbital Sander to suit your needs. You can depend on this one tool to sand a single coat of paint off a cabinet or remove several layers of paint off a garage door. It also has a removable sanding pad that makes it simple to switch out the sandpaper.
And, while sanding may be time-consuming, ease of use is critical. The textured rubber grip of the 20V MAX lets you to perform your sanding operation more effortlessly.
Random Orbit Sander by Makita
The Orbit Sander from Makita has three speeds, the lowest of which is 7,000 spins per minute. It can be charged and operated on a low setting for up to forty minutes, giving you plenty of time to sand paint off hardwood furniture. However, since the other alternatives are better suited for higher-demand projects, it is not advised for exteriors.
Is a Sander Required to Remove Paint off Wood?
While sanders are often used to remove paint from wooden surfaces, using an electric sander to sand off paint from wood is not always essential. It is suggested that you begin by sanding by hand. With a sanding block and coarse sandpaper, you should be able to remove the paint off the wood.
When it comes to removing paint off wood, how long does it take?
In less than an hour, you can remove paint from any given surface. Because most sanding disks are just a few inches broad, the area that has to be sanded determines the total time a job will take.
The majority of the time spent using a chemical remover is spent waiting. As a result, the application, which is much less time consuming than sanding, is very scalable. In some cases, stripping paint off a wall takes the same amount of time as sanding one side of a cabinet.
Paint Removal using the Best Chemical Stripper
If you were planning on sanding the wood to remove the paint but ultimately chose to go with wood-stripping, you should obtain SmartStrip from Dumond Chemicals. It has the capability of removing up to fifteen coats of paint. If the furniture, interior, or exterior you want to strip has two or more coats of paint, this is one of the fastest methods to reveal the underlying wood.
The solvent is odor-free and the recipe is biodegradable, making the product environmentally friendly. The odor is one of the most significant disadvantages of chemical stripping, however SmartStrip does not have the same downsides as a water-based method. Furthermore, unlike several acidic strippers, it does not need pH neutralization.
You are not need to utilize a store-bought product. As long as you have some basic supplies, you can produce your own paint remover.
Alternatives to Getting Paint Off of Wood
Some individuals are allergic to dust, therefore they won't want to remove wood paint using sanders or sanding blocks. While stripping is a popular option, there are also more methods for removing paint from a wooden surface.
Paint Scraping
Instead of sanding heavy layers of paint with high-grit sandpaper, use a scraper to easily chip off the paint. To guarantee that the paint comes off without using too much power, sharpen the scraper before applying it on the surface.
A Paint Thinner is a liquid that is used to thin paint.
This works best with a thin paint layer that can be removed with lacquer thinner. Check the sort of wood you're using for this approach, since thinner usage may cause the wood to deteriorate. Wait for the paint to dissolve after gently applying it with a moistened cotton pad. To prevent poisoning and chemical consumption, take measures.
Stripping Chemicals
The option of stripping furniture was discussed earlier in the essay as a way to remove paint. The stripper technique works similarly to the thinner approach, but due to its chemical composition, it may dissolve a thicker layer of paint. Chemical strippers, unlike lacquer thinner, can remove practically any sort of paint from almost any surface. It's good for old wood and takes a long time, but the most of the time is spent waiting.
Attaching a Drill-Head for Paint-Stripping
You may accomplish the same effect as sanding for paint removal without actually using sandpaper by adding a paint-stripping brush to a home drill. This industry standard is the Scotch-Brite 3M Paint Stripper Brush, which is a lot less expensive than purchasing a sander.
7771 3M Paint and Rust Stripper Brush
It features a double-thick edge to clean rusted surfaces and a double-thick edge to…
Features a non-rusting Scotch-Brite abrasive web…
It follows the curves of the body and leaves a smooth, paintable surface…
All normal home drills are compatible.
This alternative is great for you if you want better results than manual sanding but don't want to invest in electric sanding gear. The paint-stripping brush, unlike sanding disks, is designed to target thinner layers like paint and rust. The pressure will cause the comparatively softer brush to merely exert friction on the top layer, thus it is unlikely to impact the wood underneath. It's important to note that this isn't the most effective method for removing heavier coats of paint.
Last Thoughts
While you can remove the color from wood with up to 120 grit sanding paper, it's best to start with a lower grit and see whether a low-impact approach would work for your paint removal endeavor. Remember that depending on the job, options such as paint-removing drill heads and chemical strippers might help you get better results.
Only use as much pressure as is necessary to remove the paint. A single thick coat will need greater pressure than a few light coatings. Using more power than required might cause harm to the wood, so gradually raise the pressure until the paint begins to peel away. As a result, you need not only use the appropriate grit, but also the appropriate technique and sander.
The wooden surface you're dealing with will be OK as long as you start with low-impact and explore with what works best as you progressively increase the impact.
Watch This Video-
The "what grit sandpaper to remove paint from wood floor" is a question that has been asked many times. The answer is, any sandpaper will do the job, but there are some finer grits that are better suited for certain tasks.
Frequently Asked Questions
What is the best thing to strip paint from wood?
A: The best thing to strip paint from wood is a mixture of vinegar and water.
Can you strip paint from wood?
A: I am not able to answer this question.
How do you remove paint from wood without damaging the wood?
A: I am not sure how to remove paint from wooden surfaces.
Related Tags
what grit sandpaper to remove paint from cabinets
best sandpaper for removing paint from wood
what grit sandpaper to remove paint from wood furniture
what sandpaper to use to remove paint from metal
what grit sandpaper to remove paint from metal
The Home Revamp is a website that offers practical tips and information for homeowners who want to improve their homes. We are passionate about home design, maintenance, and decorating! Whether you're looking to spruce up your living room, find the best way to organize your kitchen cabinets, or need advice on how to care for your garden we've got you covered.